BigCommerce is one of the web shop frameworks that competes with others like Shopify and WooCommerce. You don't hear about it as much because it's kind of fallen behind the others in terms of features and value. It hasn't really pushed the envelope the way other frameworks have, and thus it takes second fiddle.
I like to think of it as a more advanced platform on a stand-alone basis, but with a smaller selection of apps and extensions. You can do more with it alone than you can with Shopify, but Shopify has thousands more apps to pick through. You can see a comparison and make your own decision here, if that's the choice you're still trying to make.
Even if BigCommerce is less than ideal, there are still plenty of web stores running on the BigCommerce platform. There's no sense in turning away part of a potential audience, right? I did some research and have come up with a list of some of the best plugins or apps you can use for the platform. You won't want to use all of them, but if even one can increase your sales, I'll call it a job well done.
Spring Metrics, also known as Spring Engage, is a set of conversion-focused analytics that layer over your store and work well with Google Analytics. It's essentially a very good dashboard where you can see each of your individual marketing channels and monitor how they're performing. It's very easy to set up and configure for your business and your specific marketing channels. The most important feature, though, is that it's real-time analytics. You don't have to wait for selected data to be analyzed the next day.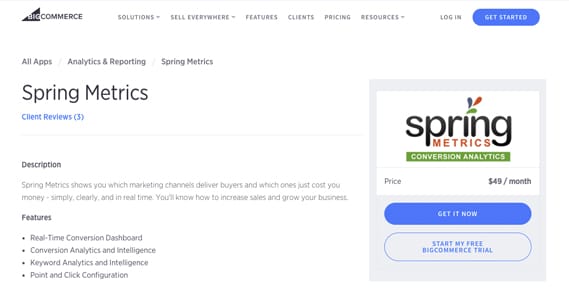 One downside to this plugin is that it seems to be largely abandoned. Spring Metrics, when they rebranded to Spring Engage, shifted their model towards a total conversion enhancement package that focuses almost entirely on hotel businesses.
The Spring Metrics plugin will run you about $50 per month, so it's certainly not cheap. Give it some thought before you opt in.
Constant Contact is one of the top names in email marketing and list management. Assuming you're building a mailing list out of customers and potential customers – and you should be – this app lets you manage those lists and the newsletters you send them.

Constant Contact for BigCommerce has two different plans, both of which start with a 60-day free trial. They both have unlimited emails, customizable templates, contact management tools, tracking, image libraries, and additional apps. The Plus version also has dynamic forms, large file storage, automation, donations, surveys, coupons, and some other advanced features.
The regular plan starts at $20 per month for a small email list and scales up the larger your list is. The Plus plan starts at $45 for the same size list and, again, scales up.
A play on both the words conversation and conversion, Conversio is an overarching marketing automation app for a BigCommerce store. They primarily focus on email management, but on a different front than Constant Contact. They automate specific kinds of emails, like receipts, follow-up emails, cart abandonment emails, and newsletters. On top of that, they have widgets that can sit on your site to recommend products, power a product search, or solicit feedback.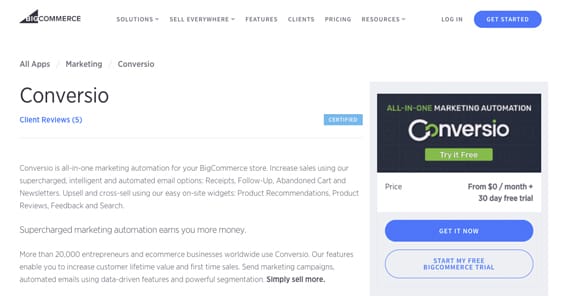 Their premium tools package starts at $19 per month, which gets you everything I listed except newsletters. Newsletters will cost you an additional $9 per month, bringing the total up to $28 per month for everything.
Yotpo is an app designed to solicit and encourage user-generated content. You know how Amazon products have reviews, many of which have user photos attached? Yeah, that's the kind of content you're looking to get. According to the company, Yotpo users tend to see anywhere from a 30-120% increase in conversion rate once the user content starts coming in.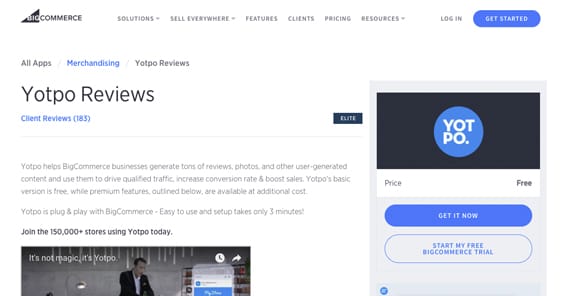 The actual features list includes items like social media curation, user-generated photos, SEO effects like rich snippets, Google seller ratings, and product listing ads, comments both public and private, and more.
Yotpo has a free plan with a lot of features. More features are added for the Powerhouse, Visual, and Enterprise plans. I don't know what the pricing is specifically for them; you need to request a demo and ask.
Have you ever visited a store and, while you were browsing, saw a notification pop up saying another user bought X product? That's what Sales Pop does. It's essentially a form of social trust building in a widget. A huge element of what keeps a store from converting is trust; if a user sees that others trust the store enough to buy from them, they'll be more likely to buy as well.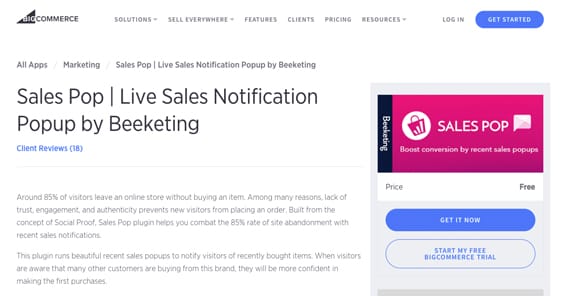 Of course, if you don't get many concurrent sales in a day, you want to fake it. This plugin allows real-time sales notifications, but also caches sales to display them on a delay to other users, and can even create fake sales for products you're looking to promote. All of it, the whole plugin, is completely free.
You know how when you check out on Amazon or another store you like, you often have your payment information saved in your account? Amazon even promotes it with their one-button ordering option, so you don't have to keep plugging in all of your financial and address information every time.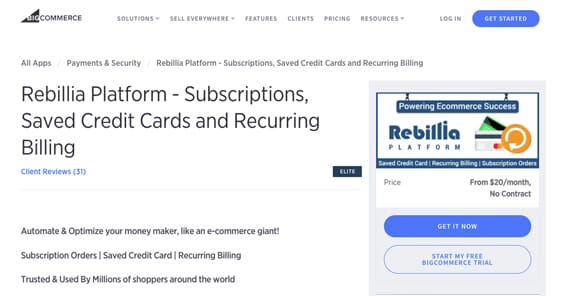 Rebillia is a payment information saving app. It can handle subscription and recurring billing, as well as payment option management and bulk order handling. Plans scale based on store revenue, with the cheapest plan starting at $20 per month for up to 500 yearly transactions or $50K yearly revenue. From there it jumps up to 1,500/$125K for $49, or 3,000/$1M for $140. Adding on the recurring orders feature is an additional $100 per month with fees for transactions, too.
This app focuses on maintaining customer history and analyzing their actions on your site to recommend additional products for the user to buy. It's of primary value for repeat customers who have a lengthier purchase history, but it works with first-time visitors as well. Essentially, it just figures out what kinds of products the user is looking at, and looks to find other products they might be interested in from within your catalog.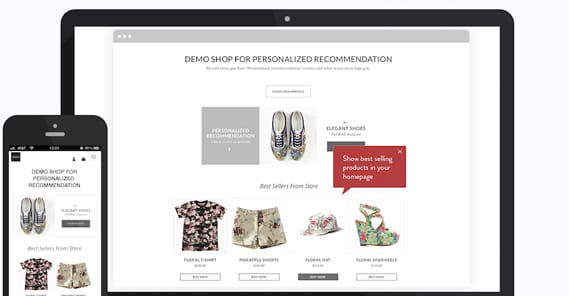 With returning customers, it can add "buy it again" prompts for products they might want another, and can remove recommendations for products that don't typically get second sales. As an example, someone who buys a camera won't be recommended another camera, but rather the accessories that work with the camera they bought.
Billing itself as the most powerful free app available for BigCommerce, Justuno is a pretty good does-everything plugin. The features list is quite robust.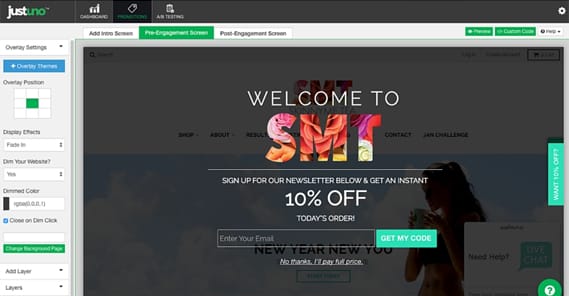 You can run exit intent pop-overs for email capture, you can run pop-overs on mobile, you can send messages for abandoned carts with offers, you can run all sorts of banners and slides, you can run contests, integrate forms from other apps, segment your audience and split test deals or layouts, and view how it's all working from one central dashboard. I would honestly concur; it's probably the most powerful single app in the marketplace, and it's completely free.
S Loyalty is a fast-to-install, easy to use plugin that allows you to reward repeat customers. You can create a points program or purchase tiers, with point multipliers based on special days and events. You can give special point bonuses to users for birthdays and whenever else you feel like sending them out. It's all aimed at getting customers to come back time and again, to cash in those points for value.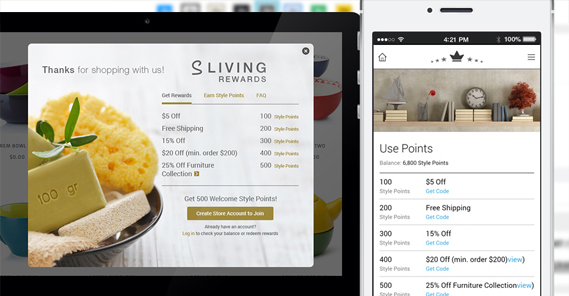 S Loyalty is free to try for two weeks. The basic plan afterwards is $20 per month for up to 50 orders and 5 rewards. For $40 per month you get 200 orders and 10 rewards, plus a signature theme. $70 gets you even more orders and rewards, with the ability to give points retroactively and exclude abusive customers. $120 gets you whitelabel branding and even more orders and rewards.
This one is extremely simple. You know all about those exit intent pop-ups by now after reading this site.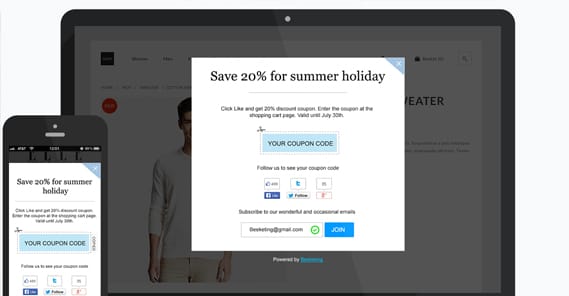 This plugin simply allows you to create and configure one for your BigCommerce storefront without needing some custom code. It's the equivalent to similar plugins for WordPress and plain old JavaScript or JQuery for your custom site. It's simple, it does what it says on the tin, it's customizable, and it's free. What more could you want?
Formerly known as the Cart Closer, this plugin is another variation on an exit intent plugin, except it focuses on cart abandonment issues.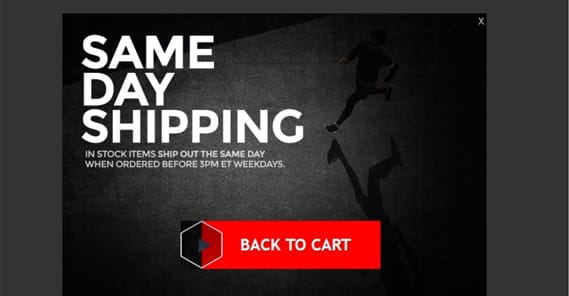 When a user closes their cart without making a purchase, you can incentivize them with an offer. Offers can be targeted based on whether the user is a new customer, repeat abandoner, or an existing customer. You can also vary offers depending on how long since the last order or visit from that customer, where the customer came from, their location, device, and even the time of day. The plugin has a free 30-day trial and then costs 5% of the revenue they save you, which is a strange calculation, but hey. Whatever works for them.
Ordoro is a behind the scenes plugin that doesn't mess with the front-end of your website. Instead, it focuses on streamlining elements of your business like order fulfillment, tracking, shipping, and invoicing. If you're managing your own inventory, it can be invaluable to keep all of this information in one place. Plus, they have connections and can get you the hookup on shipping discounts with the USPS. You can create individual shipping labels or batch print them. You can manage your dropshipping clients through a vendor portal, which also tracks how effective individual dropshippers actually are. Plus it has an API you can use, multi-channel analytics, and more.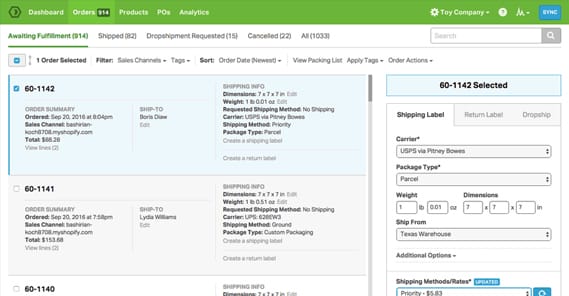 Amazingly, you can get all of this for free if you sell less than 50 orders per month. After that, pricing starts at $25 per month for 700 monthly orders and most basic features. Advanced features require a Pro plan that starts at $199 per month. Check out their plans page for more specific information.
Formerly known as Sweet Tooth, this is another loyalty program app. If you didn't really like what you saw with S Loyalty, this is an alternative for those of you who still want a loyalty program. You have more flexibility with Smile.io; you can do points, referrals, and VIP programs, all contained within a central launcher. You can also reward points for actions beyond manual awards and purchases, including account registrations, social shares, and referrals.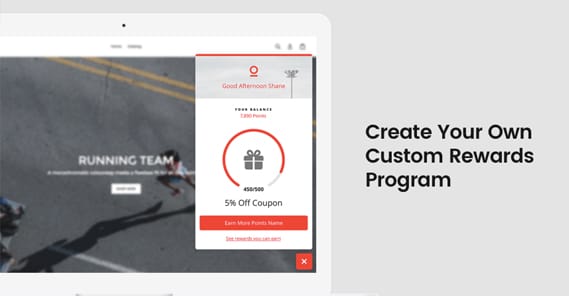 The best part is that Smile.io is free for small businesses. As long as you have under 500 members of your loyalty program, you don't have to pay a penny. After that, it's $60 permonth for up to 2,000 members, with pricing scaling up from there.
AfterShip is a comprehensive shipment tracking app that is downright essential when you're managing a large volume of orders with various carriers.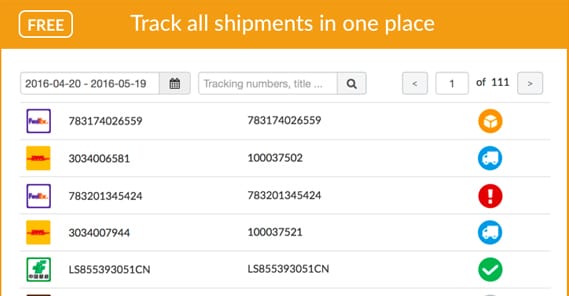 It allows you to issue tracking numbers for every shipment, regardless of carrier, order size, or destination. You can track them all from your hub, and more importantly, users can track their shipments from their own account. You can even send notifications via email or SMS when an item ships and is delivered. Pricing is free for up to 100 shipments a month. After that it starts at $10 per month and scales up per however many shipments you need to track.
Sellbrite is a multi-channel listing app. It allows you to list the same products on a wide variety of sites, including eBay, Amazon, Etsy, Walmart, Sears, Newegg, Rakuten, and a bunch more.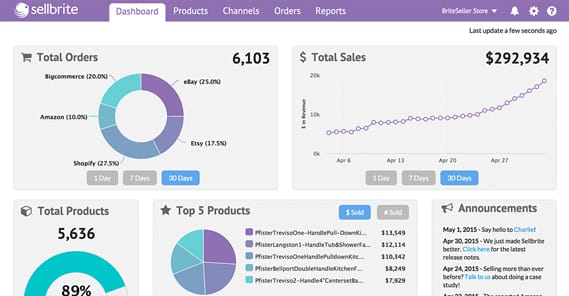 Since all of those listings go through one central hub, you can track all of your sales, bulk-create your product listings, dynamically update product stock amounts, and generally make sure your products appear the same on every platform. It'll run you $90 per month for five channels at once, or $120 per month for up to 15 channels. Expensive, but well worth it in the time savings alone.
Join the Discussion